Finding the best mattress topper for back pain can make all the difference in the world to getting a great night's sleep.
People with chronic pain or joint issues, such as elderly people, are particularly likely to benefit from this approach.
However, not everyone can afford the perfect mattress topper.
Your old, tired bed can be transformed into a more comfortable one with a mattress topper at a fraction of the cost of purchasing a new mattress.
You can also find mattress toppers that provide therapeutic benefits if you're looking for more than just comfort.
The first time you shop for mattress toppers, it can be difficult to know what to look for. This guide will help you find the best mattress topper for back pain.
How do I know if my back pain is from my mattress?
If you wake up with back pain, it might be time for a new mattress. Yet how do you know if your mattress is to blame?
In the following list, we will show you some indications that your mattress may be the cause of your back pain:
You've had your mattress for more than 7 years.
Over time, mattresses lose their comfort and support, even if they are still providing a good night's sleep. The average lifespan of a mattress is seven years, and as your mattress ages, it will become ineffective at supporting your body.
Your mattress is sagging or lumpy.
Are you sinking into the middle of your mattress? Does your pillow top feel like it is bursting with springs? An overly soft mattress causes your spine to become misaligned, resulting in lower back pain. Mattresses that do not provide enough support can cause uneven pressure points. This could cause back pain and numbness in your arms and legs.
You often wake up with stiffness or pain in your back.
Kevin M. Cerrone, DPT, director of integrative care and rehabilitation at Montefiore Health System in New York City, says that if you wake up rested but suffer back pain at other times during the day, your bed may be fine. "However, if you wake up with back pain or stiffness, it could be that your mattress is causing the problem."
You Wake Up Feeling Tired
Often when you sleep, you're already tired, so it makes sense that you'd wake up feeling the same. The quality of your sleep will suffer if you sleep on an uncomfortable mattress – probably more than you think.
It is likely that it is time for you to purchase a new mattress if you are experiencing any of these signs. As a result, not only will you be able to alleviate your back pain, but you will also be able to improve the quality of your sleep.
Can a mattress topper help a bad mattress?
There are a few steps you can take to fix a bad mattress. Adding a mattress topper is one of them. Mattress toppers are layers of padding that are placed on top of your mattress. They can be made from foam, down, or wool.
A mattress topper can help in the following ways:
It can make any mattress softer and more comfortable.

Adding plushness to a firm mattress is the most common reason people buy mattress toppers. The problem with this approach is that the firmness of your bed could be causing your back pain, as well as other health issues.
It can help you avoid buying an expensive new mattress.

Add a memory foam topper or latex topper to your current mattress if you don't find it supportive enough. If you feel like you're sinking into your mattress too much, an inexpensive topper or a latex topper can provide you with the support you need without buying a new mattress.
I

t can extend the life of your bed.

It is crucial that you use a good-quality mattress topper on your mattress topper as this will protect it from stains and wear, which means you won't have to replace it quite as frequently
Materials

used to create a mattress can either reduce the amount of pressure you feel when you sleep on a hard mattress by using soft materials, like feathers, or add extra softness when you sleep on a hard mattress by using materials such as memory foam.
Mattress toppers help regulate temperatures.

Besides the comfort and health benefits, a mattress topper also helps to maintain a comfortable temperature in your bed. There are a number of materials that can be used to make a mattress that regulates heat and airflow while you sleep, this allows you to keep cool during the night or keep warm during the winter depending on what material is used in it.
What kind of mattress topper do I need if my back hurts?
It's possible that a mattress topper could be the solution you need if you are suffering from back pain. If you are considering buying a mattress topper to deal with back pain, you should keep a few things in mind.
Thickness of the Mattress Topper:
Make sure the topper provides enough support for your spine. Generally, a good rule of thumb is to choose a mattress topper that is at least four inches thick.
Firmness of the Mattress Topper:
Secondly, consider the firmness of the mattress topper when choosing one for back pain. You may not get enough support from a too-soft topper, while an overly-firm one may exacerbate your pain. Look for a topper that's somewhere in the middle on the firmness scale instead.
Material of the Mattress Topper:
The last thing you need to pay attention to when buying a mattress topper is the material. There are some materials, such as memory foam, that are known for providing good support and helping to relieve back pain. Some of them, such as latex, can be too springy and can fail to provide you with sufficient support.
These tips will help you choose the best mattress topper for your needs and relieve back pain.
Best Mattress Topper for Lower Back Pain
| | |
| --- | --- |
| Brand | Linenspa |
| Weight | 11.28 pounds |
| Material | 100% Polyurethane Memory Foam Gel Beads |
| Ratings | 4.5 stars |
The Linenspa Gel Infused Memory Foam Mattress Topper is a great way to make your mattress more comfortable. Additionally, the memory foam is ventilated to maintain a cool and comfortable sleeping environment. You simply place the topper on top of your existing mattress, adding extra cushioning and responsiveness so you wake up feeling refreshed.
Featuring a gel-infused memory foam that conforms to your body for enhanced pressure relief and better support, as well as controlling the temperature for a more comfortable sleep surface. Moreover, the topper is covered in a soft and breathable cover that helps to keep you cool and comfortable all night long.
There are some people who are unable to get a good night's rest because their mattress isn't the right fit. A 2-inch gel-infused memory foam topper from Linenspa allows you to transform your sleeping surface into one that is both supportive and wonderfully comfortable, so you won't want to get out of bed in the morning.
Pros:
Gel-infused memory foam

Extra layer of comfort

Helps to keep you cool and comfortable.

Improve the quality of your sleep.

Available in a variety of sizes
Cons:
Expensive

The topper may be too firm for some people.

Difficult to clean.
| | |
| --- | --- |
| Brand | Sleep Innovations |
| Weight | 9.9 pounds |
| Material | Polyurethane |
| Ratings | 4.5 |
To relieve pressure points and support your head, neck, and shoulders, the Sleep Innovations gel memory foam topper features two inches of memory foam. The energy-relieving memory foam in this mattress is complemented by unique gel technology, which helps relieve pressure and keeps you cool and comfortable in any sleep position – all while extending the mattress' lifespan.
When you sink into the gel memory foam, it feels like you're surrounded by millions of tiny and supportive pillows that help align your spine and work with your body's natural curves. In addition to providing a smooth surface feel, the plush fiber pillow-top cover also resists bacteria, mold, and mildew growth.
With the bottom memory foam layer supporting and conforming to your body, this topper will keep you comfortable throughout the night. The CertiPUR-US certified mattress toppers also contain no harmful chemicals, so you are able to breathe freely.
| | |
| --- | --- |
| Brand | Tempur-Pedic |
| Weight | 26 pounds |
| Material | TEMPUR® material |
| Ratings | 4.4 |
Comfort:
This Tempur-Pedic TEMPUR Supreme 3-Inch Premium Foam Mattress Topper provides plush comfort and support-along with enhanced pressure relief-to your existing mattress. In terms of comfort, this innovative topper is designed to give your bed a touch of softness without compromising comfort, which makes it ideal for guest rooms, dorms, and traveling.
Material:
Its thick TEMPUR material conforms to the temperature and weight of your body as you sleep, giving you a personalized sense of comfort. The machine-washable, breathable cover ensures that your bed stays fresh for a prolonged period of time.
Overall:
Provides relief from pressure points that contribute to the tossing and turning associated with insomnia. An allergen-resistant fabric provides a breathable sleeping surface, while retaining dirt, dust, and allergens. The design is durable and reliable and comes with a 10-year limited warranty to ensure your peace of mind.
Pros:
Extra layer of comfort

Contours to your body and provides support

Hypoallergenic and antimicrobial

Available in a variety of sizes to fit any mattress.
Cons:
Expensive

Too firm for some people
| | |
| --- | --- |
| Brand | Best Price Mattress |
| Weight | 13.2 pounds |
| Material | Memory foam |
| Ratings | 4.4 |
Comfort:
Are you looking for a memory foam mattress topper that will provide you with additional support and comfort? With the Best Price Memory Foam Mattress Topper with Soothing Lavender Infusion, you can find a budget-friendly option that can be used on any bed older than one year of age. It combines 2.5 inches of comfortable, supportive, high density base foam with half an inch of lavender-infused memory foam to form a topper that provides comfort and support.
Material:
Contains a soothing lavender infusion, which can aid in relaxation and sleep. It is CertiPUR-US certified foam. The product does not contain ozone depleters, mercury, lead, or any other hazardous materials.
Overall:
As it distributes weight evenly, this fast-response memory foam relieves pressure points and provides superior comfort and support. In the end, you'll enjoy a more relaxing night's sleep as well as waking up feeling more refreshed and rejuvenated.
Pros:
Provide comfort and relief from pressure points.

Provide support and alignment.

Lavender infusion can help to soothe and relax the body.

Allergen resistant.
Cons:
Not durable

It's not the best option for people who are sensitive to heat.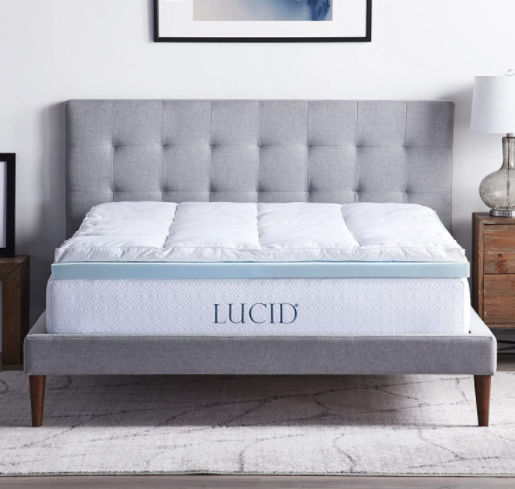 | | |
| --- | --- |
| Brand | LUCID |
| Weight | 25 pounds |
| Material | Memory foam; 100% Cotton |
| Ratings | 4.4 |
Comfort:
Soft and supportive, the mattress conforms to weight and pressure quickly, while the gel component keeps the surface cool by regulating temperature. Throughout the night, you can breathe comfortably as a result of its vented design.
Material:
A layer of gel-infused memory foam is incorporated into this topper to distribute heat, regulate temperature, and provide a cooler sleeping surface. It is machine washable and made from 100 percent cotton as well as down-alternative. It is possible to use both pieces together or separately.
Overall:
If you love the feel of memory foam, but you want to add a bit of extra plushness, the LUCID gel memory foam mattress topper is the perfect way to soften a hard mattress, rejuvenate an old one, or simply change your comfort level.
Pros:
High-quality memory foam

It is CertiPUR-US certified

Support and comfort

Available in different sizes

10-year warranty
Cons:
Bit pricey

Some people might find it too firm
| | |
| --- | --- |
| Brand | Sealy |
| Weight | 10.23 pounds |
| Material | Memory foam |
| Ratings | 4.3 |
Comfort:
With the Sealy Essentials Memory Foam Mattress Topper, you can sleep more deeply and more comfortably. Depending on how much extra comfort you're looking for, you have the choice of two different thicknesses. Gel-infused memory foam helps to keep you cool and comfortable all night long with its ability to draw heat away from your body.
Material:
This memory foam topper adds a layer of luxurious plush to your mattress that will make you feel like you are on a cloud while sleeping. Besides providing a breathable sleeping surface, Gel-infused memory foam also creates a cooler sleeping environment thanks to its open-cell structure.
Overall:
The ventilated design helps keep you cool and comfortable, while the plush memory foam cradles every curve so you can wake up relaxed and refreshed. It easily transforms the feel of any old mattress so you can enjoy a better night's sleep.
Pros:
Can help reduce back pain

May improve sleep quality

Can be a cost-effective way to upgrade your current mattress
Cons:
Some people find the foam to be too hot

May not be suitable for all types of mattresses

Not be as durable as other toppers
| | |
| --- | --- |
| Brand | Marsail |
| Weight | 10.88 pounds |
| Material | Gel Foam |
| Ratings | 4.5 |
Comfort:
The Marsail mattress toppers are the most comfortable, luxurious, and durable mattress toppers you can find on the market today. In terms of softness, curve, and coolness, the high-density memory foam layer will help you maintain a very healthy sleep zone without tossing and turning and without getting too hot like you would with other toppers.
Material:
The cool air tunneled design on the memory foam layer allows your body to breathe while sleeping. Made with CertiPUR-US certified, skin-friendly memory foam that is skin-flakes and sweat reduction help reduce bed scents in the long run and provide a clean way of sleep.
Overall:
Beautify your sleep with a breathable, moisture-wicking design and cloud-like gel-infused memory foam. Trusted CertiPUR-US and OEKO-TEX foams made without harmful substances combined with a clean weave protect against common irritants while lowering odor that many accumulate in your mattress over time.
Pros:
Providing support and relieving pressure points.

Infused with gel that helps to regulate temperature

Comes with a removable and machine-washable
Cons:
Little bit on the expensive side.

Too thick for some people.
| | |
| --- | --- |
| Brand | Sweetnight |
| Weight | 30.6 pounds |
| Material | Memory foam |
| Ratings | 4.4 |
Comfort:
With their gel-infused memory foam toppers, Sweetnight is not only providing a great sleep experience but also providing a solution to mattresses that are less than optimal. As a result of its conforming qualities, memory foam is a perfect option for side sleepers seeking pressure relief at their shoulders and hips.
Material:
Infused with temperature-regulating gel beads, this plush, breathable topper absorbs and disperses heat to prevent overheating. Made of soft Tencel fabric, the top cover provides comfort and cooling. By pulling moisture away from the skin, it prevents overheating and provides you with a more comfortable sleeping environment. Also, the mattress comes with a waterproof TPU membrane layer, protecting the mattress from moisture, sweat, and other liquid spills.
Overall:
A plush layer of memory foam helps align the spine to minimize pressure points and increase comfort. The memory foam compresses evenly beneath the unique weight and shape of a body, conforming to curves to relieve sleeping pains.
Pros:
Help to improve the quality of your sleep.

High-density memory foam

Help to relieve pressure points

Resistant to dust mites and bacteria

Hypoallergenic and breathable fabric
Cons:
Too thick for some people.

Not machine washable

The price tag may be a bit high for some people.
| | |
| --- | --- |
| Brand | Zinus |
| Weight | 7.85 pounds |
| Material | Memory_foam |
| Ratings | 4.4 |
Comfort:
Because of its superior odor-fighting ability and incredible softness, it provides a healthy and rejuvenating night's sleep that's hard to beat. All you have to do is toss it under your sheets and you'll be refreshed right away.
In addition, with a specialized layer of conforming memory foam on top of your current mattress, you will benefit from just the right amount of pressure-relieving comfort so that your current mattress feels even better.
Material:
Your mattress will stay odor-free and fresh for longer with a combination of green tea extract and copper gel. Plus, this memory foam topper absorbs your movement so that your partner won't be awakened by your movement due to its superior pressure-relieving capabilities.
Overall:
With green tea extract infused into the memory foam, your mattress topper will stay fresh day after day. Because each of the toppers is protected by a fine fabric cover, you can rest easy knowing that your skin is free from unpleasant odors and unwanted insects.
Pros:
Body-conforming memory foam topper

Freshen your mattress with green tea extract

Bacteria-free and odourless

CertiPUR-US certified foams are free from harmful chemicals
Cons:
Some people may find it too soft

Back pain sufferers may not find enough support

Some people may dislike the smell of green tea extract
| | |
| --- | --- |
| Brand | Serta |
| Weight | 22.5 pounds |
| Material | Memory foam |
| Ratings | 4.5 |
Comfort:
ThermaGel Memory Foam Mattress Topper by Serta combines memory foam comfort with an innovative cooling system to help balance temperature throughout the night. By absorbing and dispersing body heat, ThermaGel particles help to give the sleep surface a cool, comfortable feel.
Material:
The quilted cover of the sheet allows air to circulate and lets you breathe comfortably. Even better, this cover seamlessly hooks onto your existing fitted sheets, allowing you to get the deep, restorative sleep your body craves.
Overall:
Designed to give you a comfortable and relaxing sleep experience, this mattress adapts and conforms to your body's contour for enhanced support and comfort. With the soft ThermaGel particles, you will be able to sleep on a cooler resting surface.
Pros:
Very comfortable and soft

Provides good support

Reduces pressure points
Cons:
It May be too thick for some people

Can be expensive
How thick should a mattress topper be?
A mattress topper is a great way to add an extra layer of comfort to your bed, but how thick should it be? If you're looking for relief from back pain, a thicker mattress topper may be better. A study published in 2015 found that people with chronic lower back pain who used a thicker mattress topper had less pain and better sleep quality than those who used a thinner one.
The study found that a mattress topper should be at least 4 inches thick to provide the most benefit. If you're not sure what thickness to get, ask your doctor or a physical therapist for guidance. A thicker mattress topper may cost more, but it could be worth it if it helps you get the sleep you need to feel better.
What type of mattress topper is best for back pain?
When it comes to finding the best mattress topper for back pain, there are a few things to keep in mind.
First, you'll want to consider the

type of mattress

you have. If you have a firm mattress, you'll want to find a softer topper that can provide some cushioning. If you have a softer mattress, you'll want to find a firmer topper that can provide some support.
Another thing to keep in mind is the

material of the topper

. If you're looking for something that will be cooling and breathable, you'll want to choose a topper made with gel or foam. If you're looking for something that will be more plush and comfortable, you'll want to choose a topper made with memory foam or down.
Finally, you'll want to consider the

price and thickness of the topper

. If you're looking for something that is affordable and dense, you'll want to choose a topper that is two to three inches thick. If you're looking for something that is more luxurious, you'll want to choose a topper that is four to five inches thick.
Is a memory foam mattress a good choice?
A memory foam mattress can be a good option for people who suffer from lower back pain. Memory foam contours to the body and provides support, which can help to relieve pressure on the spine.
Additionally, memory foam is often cooler than traditional mattresses, which can be a plus for people who tend to sleep hot.
However, memory foam mattresses can be more expensive than other options, so it is important to weigh the pros and cons before making a decision.
Final words:
You may very well find that the best mattress topper for back pain is the one for you if you want to soothe a sore back, reduce body temperature, or reduce pressure while you sleep.
Keep in mind, however, that you should never obstruct your access to appropriate medical care if you decide to use this option in conjunction with other treatment methods.
Before making any drastic changes to your lifestyle or routine, speak with your doctor.